Explore The Best Subdivisions in Kenosha County, WI
Choosing the right neighborhood is a crucial decision that can impact your life in many ways. And if you're thinking about settling down in Kenosha County, Wisconsin, the options are abundant! From the school district your children will attend to the ease of your daily commute, a lot depends on your choice of subdivision. At Bear Homes, LLC, we specialize in offering some of the finest subdivisions that Kenosha County has to offer. Here's an in-depth look at our top picks: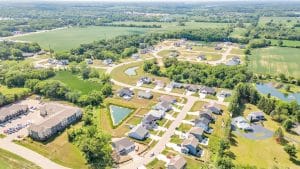 Nestled in the heart of Paddock Lake, Whitetail Ridge stands out as one of Kenosha County's best neighborhoods. This subdivision offers homeowners breathtaking pond and prairie views in a private setting.
Whether you're looking for semi-custom options or new construction homes, Whitetail Ridge caters to diverse preferences. The added allure of walkout and lookout basements sets these homes apart.
With Salem Grade School and Central High School nearby, educational excellence is within reach. For those seeking the perfect blend of nature and modern living, Whitetail Ridge epitomizes the best in Kenosha County subdivisions.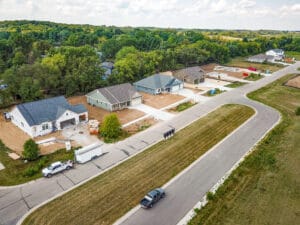 Fairway Woods in Twin Lakes, WI is a gem among Kenosha County's subdivisions. This newer neighborhood seamlessly combines nature with convenience, sitting adjacent to the Twin Lakes Country Club.
Families appreciate its proximity to top schools like Randall Grade School and Wilmot High School. With local shopping centers nearby and the added allure of walkout and lookout basement options, Fairway Woods represents the best in modern community living. If you're scouting for prime communities in the county, this subdivision should top your list.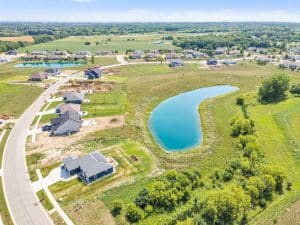 When searching for the best neighborhoods in Kenosha County, WI, Creekside Terrace in Pleasant Prairie undeniably stands out. Nestled in the heart of one of Wisconsin's most scenic subdivisions, Creekside Terrace offers spacious single-family homesites that boast both semi-custom and new-construction homes, tailored to meet diverse tastes and preferences.
Families prioritize education, and the subdivision neighborhood proudly lies within the catchment areas for Whittier Elementary, Lance Middle, and Tremper High School – some of the region's most reputable educational institutions.
Beyond the community's architectural allure and educational merits, Pleasant Prairie itself exudes local charm, ensuring that residents of Creekside Terrace experience the best blend of suburban tranquility and vibrant local culture. When considering top-tier communities in Kenosha County, Creekside Terrace is a must-see.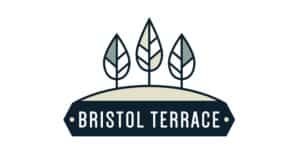 For those seeking the ideal balance of natural beauty and modern convenience, Bristol Terrace in Bristol, WI, truly stands out among the best neighborhoods in Kenosha County. Nestled just a stone's throw away from the hustle and bustle of I94 on Hwy 50, this subdivision neighborhood offers more than just single-family homesites.
Residents are gifted with the luxury of nearby walking paths that meander through protected conservancies, promoting a serene and tranquil environment. Furthermore, its location in the esteemed Bristol School District is an added advantage for families prioritizing education.
Dive deeper into the community and you'll find local attractions and amenities that echo the very essence of Bristol — a harmonious blend of tradition and progress. Whether you're a local or new to the area, Bristol Terrace represents the pinnacle of what subdivisions in Kenosha County have to offer.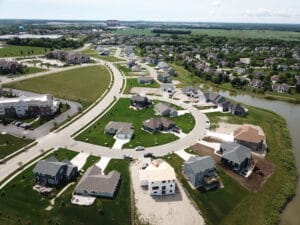 Among the best neighborhoods in Kenosha County, Arbor Ridge stands out as a premier subdivision neighborhood. Located ideally between the bustling cities of Milwaukee and Chicago, this community boasts not only convenience but also serene beauty.
Prospective homeowners can choose from several walk-out properties, providing picturesque views overlooking a tranquil pond. For those seeking a more traditional setting, flat/level homesites are readily available.
As part of the esteemed Pleasant Prairie School District, families can be assured of quality education for their children. Arbor Ridge isn't just a subdivision; it's a testament to the blend of urban accessibility and natural splendor that makes communities like these the jewels of Kenosha County.
Why Choose a Bear Homes Subdivision?
At Bear Homes, LLC, we bring more to the table than just constructing houses. We offer a complete real estate package with in-house real estate agents, draftsmen, and construction superintendents. Your dream home is not just another project for us; it's a lifelong commitment.
"Bear has laid out the plan in such a way that you know exactly what's coming and when. They are organized, friendly, and I would build again in a heartbeat if Bear could do it again." – Cathleen M.
"The Bear Homes Builder Trend app kept us apprised as the project progressed and featured photos of our home in various stages of completion." – Frank & Judith I.
---
At Bear Homes, our subdivisions are more than just addresses; they are communities where you build your future. We hope this guide helps you find your perfect fit in Kenosha County!
Get Started Today!