Experience the Flexibility of Semi-Custom Homes with Bear Homes
In the realm of home building, one option has been steadily gaining popularity—semi-custom homes. At Bear Homes, a trusted semi-custom home builder, we understand the desire for a personalized living space. We offer a unique blend of pre-designed floor plans and customized features, giving our clients the chance to have a home that truly fits their lifestyle.
Understanding Semi-Custom Homes
Semi-custom homes strike a perfect balance between completely customized homes and pre-designed homes. They begin with existing floor plans and then allow for adjustments and modifications to cater to the specific needs of the homeowner. This approach to customized home building combines the cost-effectiveness and convenience of pre-designed homes with the unique flair of a fully customized one.
The Flexibility of Semi-Custom Homes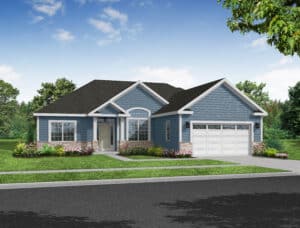 The real charm of semi-custom homes lies in their flexibility. With Bear Homes, you can tailor our existing floor plans to match your preferences.
Want an extra bedroom for guests? Or maybe a spacious home office? How about a personalized kitchen layout to fulfill your culinary dreams? With our semi-custom homes, these options are all within your reach.
The Bear Homes Approach to Semi-Custom Homes
At Bear Homes, we pride ourselves on our client-focused approach to semi-custom home building. Our team of experts will guide you through the process, helping you make the best decisions to enhance both the functionality and aesthetic appeal of your home. We only use high-quality materials and design elements, ensuring that your semi-custom home is not only beautiful but built to last.
The Benefits of Choosing a Semi-Custom Home with Bear Homes
Choosing a semi-custom home with Bear Homes means more than just flexibility. It means creating a personalized living space that mirrors your lifestyle and aspirations. As one of our clients, Cathleen M., puts it:
"Taking on the building of a house is a huge endeavor emotionally, financially, and physically, and it can be very scary. Bear has laid out the plan in such a way that you know exactly what's coming and when. They are organized, friendly and I would build again in a heartbeat if Bear could do it again."
How to Start Your Semi-Custom Home Journey with Bear Homes
Starting your journey towards a semi-custom home with Bear Homes is simple. Just reach out to us for a consultation, and we'll help you navigate through our available floor plans and guide you on making the perfect customizations. Let us help you create your dream home, personalized to fit your style, needs, and dreams.
---
Semi-custom homes offer a perfect balance of flexibility, cost-effectiveness, and personalization. Whether you're looking for your forever home or a perfect place to grow your family, a semi-custom home could be the ideal solution.
Experience the joy of creating your own personalized living space with Bear Homes. Let's start building your dream home today. Contact us and take the first step on your semi-custom home journey.
---
Contact Us Today!