Find Your Dream Home with Bear Homes' Move-In-Ready Properties
There's something incredibly exciting about stepping over the threshold of a new home for the first time. Especially when that home is move-in-ready, sparkling with newness, and impeccably designed to cater to your needs. At Bear Homes, we take pride in offering an array of these move-in-ready homes for sale, each nestled within our thoughtfully planned and newly developed subdivision communities.
The Appeal of Move-in-Ready Homes
Move-in-ready homes are properties that are brand new, complete, and waiting for their first occupants. Unlike under-construction properties or self-build projects, these homes don't make you wait. They're professionally designed, beautifully finished, and ready for you to start creating memories.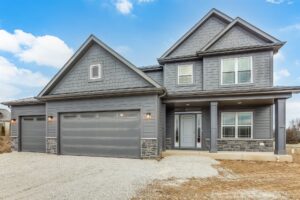 Choosing a move-in-ready home offers numerous benefits. You can bypass the construction process, with its potential for delays and unforeseen challenges. Each of our homes is finished to the highest standard, with meticulous attention to detail and a keen focus on comfort and style.
Bear Homes' Move-In-Ready Homes
At Bear Homes, we understand that a home is more than just a structure; it's where life happens. That's why we've invested time, expertise, and heartfelt care into designing and building our move-in-ready homes. Each property in our portfolio is created with the future homeowner in mind, featuring quality materials, modern amenities, and elegant design touches.
Our move-in-ready homes offer the perfect balance between luxury and practicality, ensuring that you don't have to compromise on either. Whether you prefer the sleek simplicity of a modern aesthetic or the cozy appeal of a more traditional style, you'll find a home that fits your taste among our diverse offerings.
Bear Homes' New Subdivision Communities
Our newly developed subdivision communities serve as the perfect backdrop for our move-in-ready homes. These thoughtfully planned communities offer more than just a place to live—they offer a lifestyle. With access to local amenities, beautifully maintained common areas, and a friendly neighborhood atmosphere, our communities are designed with your comfort and convenience in mind.
Finding Your Dream Home with Bear Homes
The process of finding your dream home among our move-in-ready properties is streamlined and customer-friendly. Our team of licensed real estate agents is ready to help you navigate the home-buying process, making it as simple and stress-free as possible.
Take, for example, the story of Frank and Judith I., who found their dream retirement home with us. Despite living out of state during the construction process, they were kept informed and engaged through our Builder Trend app. They now enjoy their well-built, beautiful home in a lovely Bear Homes neighborhood.
---
If you're in search of a new home that's move-in-ready, designed with care, and situated in a friendly community, look no further than Bear Homes. Our new homes in our freshly developed subdivision communities are waiting for you. Discover the joy of immediate comfort and start creating cherished memories in your dream home today. At Bear Homes, your dream home isn't just a promise—it's a reality.
---
Contact Us Today!